Our course officially begins with a Thursday night LIVE kickoff video call on March 21st, where I will walk you through the process for our Bootcamp.
I promise, you'll leave this 1-hour call so pumped up, you'll be ready to take on the world.
And if you can't attend live, don't worry! The replay will be available to watch any time. Make sure you are signed up to receive emails from your instructor in order to get the link to attend live!

In order to set powerfully clear goals, you need to know where you want to go.

Today, we will dig deep into your personal vision for your life and career, look at your to-do list, and prioritize everything so you are focused on the right goals for your life.

You know where you're headed and what you need to focus on.

Today, we'll arrange those priorities into a set of goals, projects, and tasks that will have you taking control of your to-do list like never before.

With your goals firmly in place, this final day will feel like pure magic.
Today, I will teach you how to set up your Kanban Board and nail down the exact tasks you'll be working on for the next three months.
Are you ready to totally own the rest of 2019 and have your best year ever?
(yes, yes you are)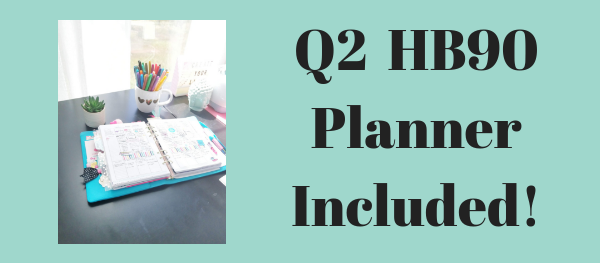 Umm, can we talk about the fact that this Bootcamp comes with a free, printable Q2 2019 HB90 Method planner that will take you all the way through June 30, 2019? How cool is that?

I custom-designed this quarterly goals planner to match and support the system you're about the learn. With trackers, goal-setting pages, and monthly, weekly, and daily pages, you will be set up for success before the quarter even begins.
You're welcome :)